New Employee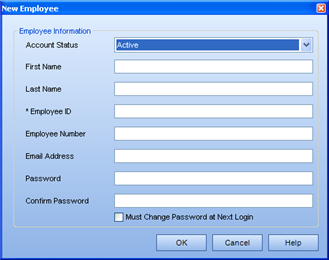 From the New Employee dialog, you can:
Account Status - set the account as Active or Inactive

First Name/ Last Name - enter the name of the Employee
If you do not enter a name for the Employee, the Default Value for the First Name/ Last Name properties for an Employee will be entered. These values are set by a System Owner in the Tools/ Object Properties dialog.
The default value for First Name is New, and the default value for Last Name is Employee.
The Employee ID is often a standard within the company.  For example, some companies may decide to use the Employee's first initial and last name as an Employee ID.
Employee Number - if your company has specific employee numbers, it can be entered here.

Email Address - enter an Employee's external email address.
Email addresses are used in Messaging and Feedback, and in Reporting, and therefore valid email addresses must be entered for each employee in order to make use of this functionality.
Password/ Confirm Password - enter your password here.  This information is to provide an added level of security, in cases where the Employee ID is relatively easy to figure out (i.e., first initial, last name).
The System Owner can choose to set a minimum password length in the System Options/ General tab.  If this is the case, entering a password that does not meet the minimum password length, or leaving these fields blank, will result in an error message.