What's New in TRACCESS CI 8.7?
The TRACCESS CI development team is continually changing and updating our software to meet the needs of our clients. New features were incorporated into TRACCESS CI, version 8.7, to do just that. TRACCESS CI 8.7 introduces several new features:
A PDF version of this document is available: What's New in TRACCESS CI 8.7
TRACCESS Today Can Be Customized by Org Unit or Role
Because of the global nature of the information on TRACCESS Today, many companies had chosen not to post information here because it only applied to certain Org Units and not to everyone. This is resolved with the introduction of a customizable TRACCESS Today per Org Unit.
For each Org Unit, the Operational Administrator or System Owner can choose to show different information in both the News and Quick Links sections. This information can be set to cascade, following the structure of the Organization Manager. Particular information can be set to be viewed globally by everyone, and each nested Org Unit can have extra links or news appended to the main bulletin board.

Knowledge Assessments with Time Limits
Certain types of assessments are best delivered with a set time limit, particularly for tasks that require a person to have all the information in the forefront of their mind when performing the task. TRACCESS CI 8.7 introduces a time component to a Knowledge Assessment. If a value is entered into the time property of a Knowledge Assessment, the Learner will be required to complete their Knowledge Assessment in the specified amount of time. If the Learner has not manually submitted the assessment and the time limit lapses, the system will automatically submit the assessment for grading.
Elapsed Tasks are Visually Different than Tasks that Have Never Been Completed
Prior to version 8.7, an incomplete task icon was white, regardless of whether it had become incomplete by elapsing or never being completed. To match the Qualification Summary (pie) for a Learner that has the elapsed state as yellow, new icons have been introduced that differentiate between incomplete and elapsed—these appear as yellow. This assists both Learners and Supervisors in quickly determining if these tasks have been previously completed or if they are completely new for the Learner.

Activity Reports for Supervisors, Reporters, and Administrators
The Activity Report has always provided valuable information to the System Owner regarding the "user activity" in the database. The only drawback was that since this information was not being filtered for any Org Units or employees in particular, the report was primarily available to System Owners only. The Activity Report always showed system-wide activity, so only a few people in the organization would be allowed to run such a report.
TRACCESS CI 8.7 introduces a new wizard for the generation of an Activity Report Template. This wizard incorporates a tab for the selection of particular Org Units, and it can now be made available to Operational Administrators, Reporters, and Supervisors. This allows employee managers to run Activity Reports specifically on a set of people who report to them or even on a single individual.
Task Equivalencies Can Trigger Auto-Completion
Companies often encounter the following scenario: "If an employee completes a specific task, they should automatically get credit for completing one or more other tasks, since the same information is covered." Prior to TRACCESS CI 8.7, Supervisors and Operational Administrators were required to manually set the equivalent tasks as complete. If Supervisors and Operational Administrators were aware of these task completions, this could, in principle, function quite smoothly. In many situations, however, the notification of task completion did not reach one of these individuals, and then learners would not receive credit for tasks that should be complete.
In TRACCESS CI 8.7, Subject Matter Experts are able to indicate that one task has one (or several) task equivalent(s). This can be broken down further to "completion of knowledge and/or capability of 'X' task auto-completes the knowledge and/or capability of 'Y' task."
Certificate Generation for Completed Training
In some cases, a printed certificate is useful to warranty that specific training has been completed by an employee. In such a case, an employee can now use the "View Certificate" button to view and print a certificate. The certificate can be customized by your company to suit any style of certificate you wish to offer, or you can use the default certificate provided with TRACCESS CI 8.7.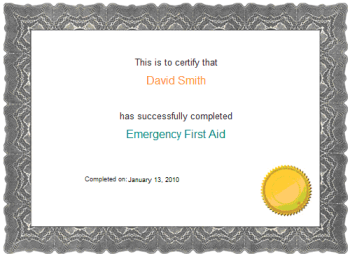 Report Header Image Customization
To accommodate those companies who wish to have more than one custom image on their report headers, TRACCESS CI 8.7 now allows for a custom image to be placed on both the left and right side of the header. This may be required for situations where your identity department has strict regulations as to what appears on all company documentation or reporting. In some cases, these regulations may state that:
a parent company logo must appear on one side and the affiliate company logo on the other;

a single logo must appear on one side or the other, with nothing to "compete with" this logo on the opposite side.
This setting of both left and right-side custom report images is completed in the Modify Image Lists dialog.
Splash Screen Customization
Although customization of the login screen has always been possible, there is a "splash screen" that appears momentarily while the main TRACCESS CI application login screen loads. This splash screen could not be previously changed. This image can now be customized by placing your own customized image into the TRACCESS CI client installer directory.
Refresh Button
There is now a "Refresh" option on the TRACCESS CI "View" menu. If necessary, this option can also be placed on your toolbar. This refresh button will clear all cached data that the TRACCESS CI client is maintaining, and it will ensure that you get all the latest data from the TRACCESS CI server. The same is accomplished each time you login, but sometimes you may find that certain data is being changed at the same time as you are looking at it. This refresh option allows you to simulate a logout/login without actually having to do one.
Org Unit View/Learner View Reports
These two reports are designed to help identify which Org Units and Learners have tasks specifically hidden from them. It can be of assistance when trying to clean up or maintain your customizations of learning programs. These are custom reports, which can be uploaded into your system. They are available, free of cost, for customers using an SQL database. The reports will not appear by default in your TRACCESS CI 8.7 reports list because they may not be applicable to all customers. If you feel the reports would be useful to you, please contact customer support and the reports will be provided to you.