Session Tab - System Options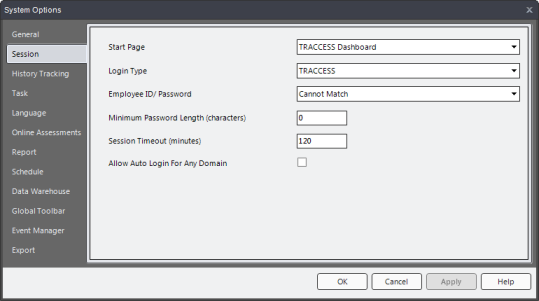 Start Page - you may choose to show Employees the TRACCESS Dashboard or the main TRACCESS view first upon login.

Login Type - can be set to Windows, TRACCESS or Both.

Windows - when an Employee is logged in to their network, the system verifies that the Employee is also a user of the TRACCESS system, and presents the TRACCESS Dashboard or the main TRACCESS window (whichever is set in the previous option), without presenting the Employee with a TRACCESS login screen.  This is also known as "Pass-through authentication".

TRACCESS - every time an employee logs in to TRACCESS, access to the system is dependent on the validity of their Employee ID and password.

Both - if both Windows and TRACCESS login type is selected, the system will first ensure that the Employee is logged in to the network with a recognized profile, and will also be presented a TRACCESS login screen in order to validate their Employee ID and Password in the TRACCESS System.

Employee ID/ Password - options are Can Match and Cannot Match.
This option is provided for security purposes.  Since many Organizations set an Employee ID to something generic (i.e., first initial, last name of the employee), it would be easy to access the system as someone else if Employee IDs and Passwords could match.
This option is also provided for security purposes.  If you would like to shut off this feature, enter 0 in the field.
Please note: any field that calls for an integer value cannot be left as blank.  
Session Timeout - After this period of inactivity, the TRACCESS session becomes invalid.  Therefore, if someone walks away from their workstation without logging off, their session will automatically shut off after this period of time.
| | | | |
| --- | --- | --- | --- |
|      | | | |