Welcome to TRACCESS CI Help
Use the table of contents on the left to view help topics, access PDFs and downloads, to find out what's new, and more. You can use these resources in different ways depending on your experience with TRACCESS CI and your information needs. Below you will find guidance on how to use and navigate this help site.
Hints on Using TRACCESS Help
Learn about TRACCESS
Whether you are new to TRACCESS or already an avid user, use this site to understand TRACCESS terms and features to help plan, organize, and complete learning.
General overview video tutorials: A great place to start for new TRACCESS users, these six video tutorials are a quick overview of TRACCESS Learner concepts and functions. Find these on the left-side of the help site under Video Tutorials in the table of contents.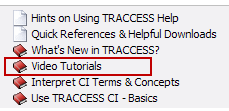 Tip: Main folder topics are referred to as 'books' and are represented by book icons that close

and open

 as you navigate the table of contents.
Role-specific information: If you are already familiar with TRACCESS, you can go to the book about your role/s in TRACCESS CI, i.e., Learner, Supervisor, System Owner. There you will learn about the concepts and functions specific to that TRACCESS role.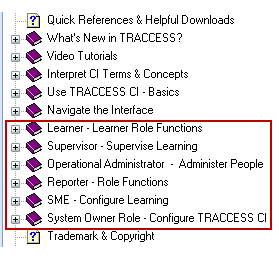 Quick References & Helpful Downloads: Check this TRACCESS Help page for condensed references and download templates that can assist TRACCESS users at different experience levels and in different roles.
What's New: Read the latest What's New to learn about the newest TRACCESS features. You can also read past What's New documents by navigating to the What's New in TRACCESS? book in the table of contents.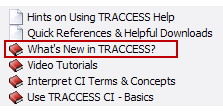 Additional help: Use the Table of Contents, Index, or Search functions, as described below, to learn more about topics of most value to you. 
Find and View Information
Use TRACCESS Help as an ongoing reference and tool. From the upper-left pane, you can locate information in three ways: Contents, Index, and Search.

Contents: This is the table of contents, displayed by default when you visit the help site.

Click a book

in the table of contents; the book opens

and a list of topics appears. Click a topic name to view its help page in the right-hand pane.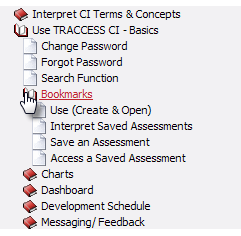 Tip: Within some help pages, you will find an arrow

. Click on it to show a related graphic. Click on the arrow again to hide the graphic.
Index: Click the Index tab then enter a term(s) you want information about in the blank field. The list will filter according to your term(s). You can also scroll through the alphabetized list.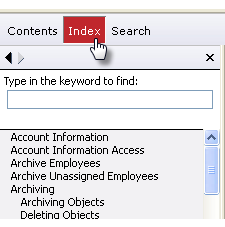 Search: Locate every occurrence of a particular word or phrase in TRACCESS Help by clicking the Search tab and then typing the word(s) or phrase in the search field. In the search results list, click the topic title you want to review. The corresponding topic appears in the right-hand pane.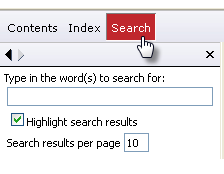 Print the Help
You may print individual topics in this Help file using your web browser's print function.
Click and open the topic you want to print.

Under File in the browser menu bar, select Print or right-click on the topic and select Print.
Get More Help
While TRACCESS Help shows you how to use many of the TRACCESS CI features, you may have questions about additional features while using the program. Visit the Contact page to view TRACCESS CI support options.
License Notice
This Help, and the software described in it, are both furnished under a license agreement and may be used only in accordance with the terms of that agreement. PetroSkills reserves the right to make changes to this documentation at any time without prior notice.