Search: Basic
Overview
The basic search allows Learners and managers to search for objects by simply entering a keyword. You can search for the objects you have access to, dependent on your role. If you want to return more specific results, click on the Advanced tab to create a more refined search.
Note: The basic search is an exact search based the search criteria you have selected and entered. If you chose the 'Employee' Object Type, type in "Beatrice Agnew," and searched in all available areas, your search will return no results. This is because the Basic Search is searching for "Beatrice Agnew" as a whole in both the First Name and Last Name fields. In a case like this, type in either the first or last name of the person in the Search Text field.
The Basic search has several functions and options:
click image to enlarge - double-click to resize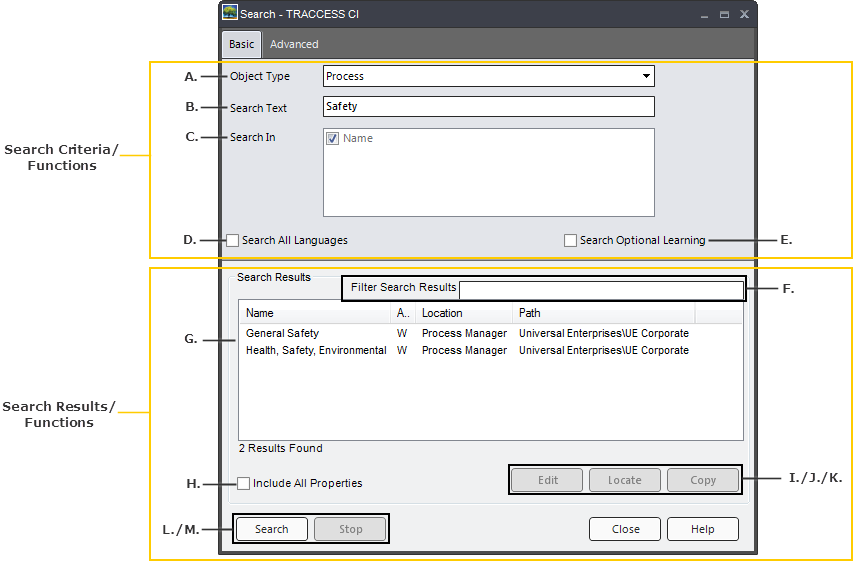 Search Criteria/Functions
A. Object Type - Choose the type of object you are searching for.
B. Search Text - Type in the keyword(s) for your search in this field.
C. Search In - Displays properties that you can select and deselect that you want to search within.
D. Search All Languages - Searches all languages in the system rather than only the currently selected language.
E. Search Optional Learning - Includes Optional Learning in the search.
Search Results/Functions
F. Filter Search Results - Type in a keyword(s) to filter your search results. You may also use regular expressions in this field.
G. Search Results - Displays the results of your advanced search after clicking the Search button.
H. Include All Properties - When unchecked, a default set of fields will be populated with the search results. When checked, all of the searchable fields for this object will be displayed.
I. Edit - (Learners do not see this button.) Allows managers to edit properties of the object with the Multi-Object Property Editor.
J. Locate - Click on a search result, and then click on the Locate button. You will be redirected where the object is in the system.
K. Copy - If you would like to further manipulate the search results, use the <Shift> and <Ctrl> keys to select specific search results, and click Copy. You can then paste the contents of the clipboard into another application (e.g., Notepad, Microsoft Word, or Microsoft Excel).
L. Search - Starts the search.
M. Stop - Stops a search in progress.
Conducting a Basic Search
Select

Search

  from the Quick Access Bar.
The Search dialog appears.

Select the

Object Type

from the dropdown menu.
Enter the

Search Text

.
Check the fields you would like to

Search In

.
Click

Search

.
The Search Results dialog will be populated.
(Optional) Enter a keyword(s) in the

Filter Search Results

field—this is especially help for large search results.

You may also use regular expressions in this field.

Highlight the desired Search Result, and click

Locate

.
The program will navigate to the selected Search Result.
Additional Help: