Occupational Development Schedule for Org Units
About the Org Unit Schedule
The Org Unit Schedule is designed for managers to create and manage activities and milestones for entire Org Units. This is a useful way to set mandatory or  strongly suggested activities for a large number of people. You could, for example, schedule mandatory training sessions for a particular division in your company. Other examples could includes onsite inspections, courses, or seminars. Once items have been added to an Org Unit schedule, they appear as "read-only" and become a permanent part of each Employee's schedule that belong to that Org Unit and all of its child Org Units. Learners cannot edit or remove these items.
With the Org Unit Schedule, you can:
You can also preview Learner schedules.
Below you can see an example of a schedule for the Universal Enterprises Org Unit. When you compare this schedule to the Learner Schedule, you can see that these items appear as read-only. Any changes that are made in the Org Unit schedule will appear in the Learner schedules.
click image to enlarge - double-click to resize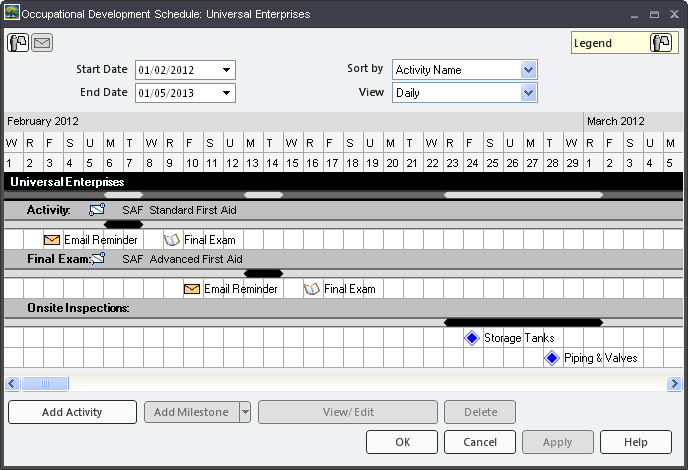 You can access an Org Unit Schedule for editing in a few different ways:
Select an Org Unit from the Organization manager and select

Edit Schedule

from the main menu.

Right-click on an Org Unit in the Organization manager and select

Edit Schedule

from the menu.
Additional Help:
Schedule: Add Activity to Org Unit Schedule
Schedule: Add Activity to Another Employee's Schedule