About the TRACCESS Dashboard
What is Displayed on the Dashboard?
How is the Information Displayed? (Layouts)
The TRACCESS Dashboard is a one-page customizable layout that can be made up of multiple windows of informative, resourceful, and/or interactive items. The Dashboard is not only meant to inform, but it can be used as a means to navigate to specific areas of TRACCESS.
The Dashboard can be displayed upon log in; and with the Toggle icon

found on the Quick Access Bar, Employees can easily switch between the Dashboard and TRACCESS Home. A System Owner can set the Dashboard to appear after logging in the System Options.
click image to enlarge - double-click to resize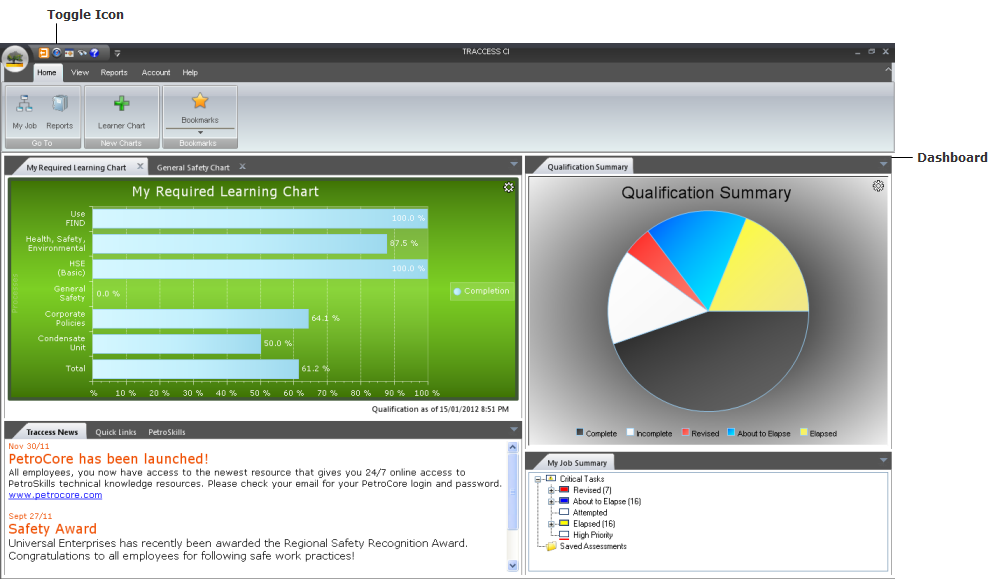 What is Displayed on the Dashboard?
The Dashboard may display a number of different items—some on a global level (meaning many people in an Org Unit can see the same thing) or on an individual level. What you see is also dependent on your assigned role. For example, a Learner is the only role that sees the My Job Summary.
The Dashboard may display any combination of several items:
My Job Summary - Displays both critical tasks and saved assessments—more info.
Quick Links - A section to provide any type of URLs that are helpful or relevant to Employees.
TRACCESS News - Acts as a company "bulletin board," used to make announcements or to inform Employees of any important information about the company.
Qualification Summary - Displays a color-coded pie chart representing all Task Statuses including Complete, About to Elapse, Elapsed, Revised, and Incomplete. This provides a quick way for Learners or Supervisors to see learning progression.
URLs - This window displays a webpage; this can be any webpage: external or internal, such as an employee forum.
Charts - Learners can add interactive charts to their Dashboard to view completion of their own learning. Supervisors can use charts to display completion of the Org Units they manage. Data on the charts can be clicked on to view more detailed information, and charts can be used as a jump off point to navigate to specific areas in TRACCESS—more info.
A System Owner determines the content that appears in the Quick Links, TRACCESS News, and URL sections. These settings can be edited by selecting Tools > Dashboard Content from the main menu. Employees can customize their own Dashboard layout; however, it is initially set and can be reset globally by selecting Tools > Dashboard Layout.
How is the information displayed? (Layouts)
The Dashboard is a one-page layout that is made up of any number of items. Each item is displayed in its own window with a tear-away tab. Tear-away tabs allow you to reposition windows and for more than one item to exist in a single window. When multiple items are tabbed into one window, you can simply switch between items by clicking on the tabs.

The Dashboard layout is initially set at a global level by the System Owner; Employees can then change their layout to their own personal liking. Layouts are essentially limitless. Below are a few examples of possible Dashboard layouts.
Dashboard Layout Examples: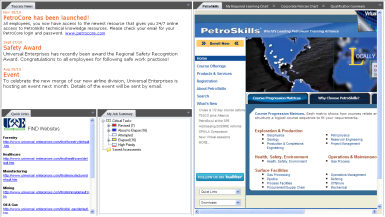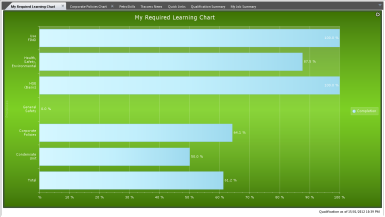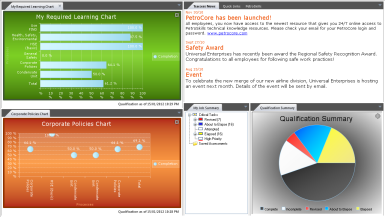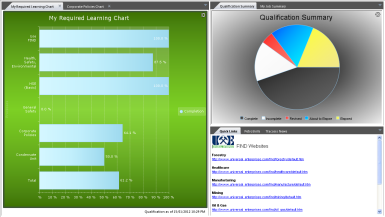 The global layout is set by the System Owner by selecting Tools > Dashboard Layout.
Additional Help:
Dashboard: Changing Your Dashboard Layout